An extraordinary report from USA Today, which obtained a private letter from "the Babe Ruth of public health" to a successor as director of the Centers for Disease Control and Prevention (CDC), in which Robert Redfield is urged "to expose the failed US response to the new coronavirus [and] to orchestrate his own firing to protest White House interference".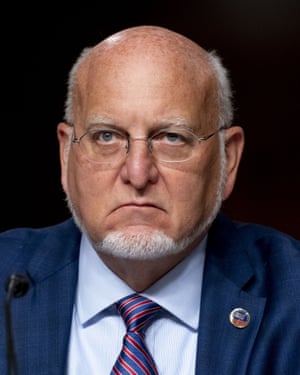 The letter was written by William Foege, 84, an eminent epidemiologist who led the CDC between 1977 and 1983, under Jimmy Carter and Ronald Reagan, and played a key role in the global eradication of smallpox. The "Babe Ruth" appellation was bestowed by Tom Frieden, Redfield's predecessor in the CDC role. The letter acquired by USA Today was written last month.
"Dear Bob," it begins. "I start each day thinking about the terrible burden you bear. I don't know what I would actually do if in your position but I do know what I wish I would do. The first thing would be to face the truth … Despite the White House spin attempts, this will go down as a colossal failure of the public health system of this country."
Laying out his recommended way for Redfield to restore CDC control over pandemic response and thereby regain its reputation, Foege says simply resigning would not work, as it would merely be "a one-day story".
Instead, he says, "You could, up front, acknowledge the tragedy of responding poorly, apologise for what has happened and your role in acquiescing [to the White House]. Don't shy away from the fact this has been an unacceptable toll on our country. It is a slaughter and not just a political dispute."
According to Johns Hopkins University, nearly 7.5m cases of Covid-19 have been detected in the US and nearly 210,000 people have died.
Foege continues: "You don't want to be seen in the future as forsaking your role as servant to the public in order to become a servant to a corrupt president. The White House will of course respond with fury, but you will have right on your side. Like Martin Luther, you can say, 'Here I stand, I cannot do otherwise.'"
Redfield is a devout Catholic, so offering the example of the wellspring of the Protestant reformation may not be ideal.
But Foege also says he was motivated to write to Redfield by the appointment to the White House coronavirus taskforce of Dr Scott Atlas, a controversial figure who is not an infectious disease expert and whom Redfield was recently overheard to criticise in stringent terms.
Redfield and the CDC did not comment. White House spokesman Judd Deere said: "This dishonest narrative that the media and Democrats have created that politics is influencing decisions is not only false but is a danger to the American public."
In his letter to Redfield, Foege stresses that politics has taken priority over public health decisions and begs the CDC director to make a stand the public will notice.
He concludes: "When they fire you, this will be a multi-week story and you can hold your head high. That will take exceptional courage on your part.
"I can't tell you what to do except to revisit your religious beliefs and ask yourself what is right. I don't for one minute relish your position but [the Food and Drug Administration] or [the National Institutes of Health] cannot make a statement that changes the course of this epidemic. You and CDC could.
"I wish you the very best, Bill."