A dispatch from our west coast office, on California's regathering storm and Governor Gavin Newsom's moves to ride it:
California reported more than 9,000 new coronavirus cases on Tuesday, a new high in daily cases. New cases actually topped 11,000, said Newsom, though he attributed about 2,000 to a reporting backlog.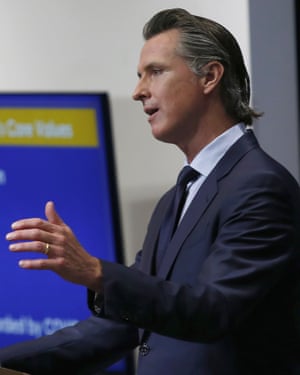 The state is seeing red flags across the board. In the past two weeks, hospitalizations have risen to 6,100, a 44% increase. Admissions to intensive care have climbed by 34%.
While testing is up, so is the percentage of positive cases, which has risen above 7%. In the early weeks of the pandemic, the state's positivity rate topped 40%, largely due to scarcity of tests that meant only those showing clear signs of infection could access testing.
This week, the state added three counties to a "watch list" of areas where public health experts closely monitor case spikes and hospital capacity.
Carmela Coyle, president and chief executive of the California Hospital Association, said doctors have learned a lot in the past four months.
"We're preparing to surge, but we're going to surge differently this time. We have different tools, and we've learned a lot about how to care for Covid-positive patients. We're putting less patients on ventilators; we have remdesivir.",
That is a therapeutic drug that has been found to shorten the time to recovery in adults hospitalized with Covid-19.
Public health officials continue to field questions on who is getting sick. While Newsom has previously pointed to the "young and invincible" who fail to take safety precautions because they feel immune, on Wednesday he recognized the toll the pandemic has taken on "essential workers".
"There's a little bit of mythology about reopening the economy," he said, adding that while some of the state previously shut down, 60% of its economy kept moving. Those who kept working outside the home included farmworkers, grocery store employees and others doing jobs that are "overrepresented in the black and brown community", Newsom said.
According to state public health data, Latinos represent an outsized portion of cases.