Police declared a riot again in Portland after 81st night of Black Lives Matter protests
A riot was declared in Oregon's biggest city again last night as protesters demonstrated outside a law enforcement building early Sunday. It was the 81st continunous night of protest.
Earlier, demonstrators had been addressed by the mother of Patrick Kimmons, a 27-year-old man fatally shot by Portland police in 2018. Local media report that Letha Winston has led demonstrations in the city in the past. She told the crowd:



We need to continue to keep marching. We need to continue to keep chanting. We need to continue to keep running. We need to continue to keep screaming. We need to stand tall through it all. Do not ever let anyone discourage you from getting justice…. A change is going to come.
Officers used crowd control munitions to disperse the gathering outside the Penumbra Kelly building. Eleven people were arrested.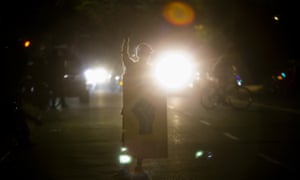 In an incident widely spread on social media a man appeared to have been punched and kicked unconscious by demonstrators just blocks away from the peaceful protest.
Multiple videos posted online apparently showed the man sitting in the street next to a truck that he had been driving, which had crashed and come to a stop on a sidewalk. People were crowded around him and he appeared to have been punched at least once and later kicked in the head.
The man was later loaded into an ambulance and taken to a hospital with serious injuries, Portland police Sgt. Kevin Allen told The Oregonian/Oregon Live. It was unclear what exactly led up to the crash and the confrontation.
Police also claimed, via Twitter, that protesters had thrown "softball size" rocks, glass bottles and other objects at officers. The department also said security cameras had been spray painted and other vandalism occurred. Two police officers were treated at the hospital after being hit by rocks, authorities said.
The actions came after what started as a peaceful protest, with demonstrators chanting "take it to the streets!"
Good morning, welcome to our live coverage of US politics today. Here's a quick catch-up of where we are, and what can we expect from today.
There were 516 new coronavirus deaths and just over a further new 42,000 Covid-19 cases reported in the US yesterday. The numbers always dip at the weekend, but it means the rolling 7 day average for new cases remains above 50,000 per day.
Speaker Nancy Pelosi is recalling the US House of Representatives early from its summer recess in a bid to protect the US Postal Service from efforts to block funding and suppress mail-in voting in November's election.
The Death Valley temperature hit 54.4C – extreme weather watchers believe it could be the hottest reading ever reliably recorded on the planet.
Police declared a riot in Portland again after another night of Black Lives Matter demonstrations
The virtual Democratic National Convention gets underway later today. The speaking bill for Monday includes Michelle Obama, Bernie Sanders, Michigan governor Gretchen Whitmer and New York governor Andrew Cuomo. The main event doesn't start til 9pm ET – there's a full schedule here.
Joe Biden will attend a virtual financing event. Donald Trump is flying to Minnesota and Wisconsin for campaign events.
I'm Martin Belam, and I'll be with you for the first stint of what is going to be a long and busy day – you can contact me at martin.belam@theguardian.com