There has been no response from the World Health Organization yet to the formal notice given by the US to the United Nations today, also informing Congress, that it will officially withdraw from the WHO, which comes under the UN umbrella.
However, the president of the United Nations Foundation, a charitable body set up by CNN founder Ted Turner to support UN causes, Elizabeth Cousens, said in a statement that the Trump administration's "move to formally withdraw from WHO amid the greatest public health crisis that Americans and the world have faced in a century is shortsighted, unnecessary, and unequivocally dangerous."
The WHO was founded in 1948 by the United Nations and is the premier global public health body.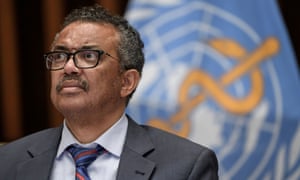 Meanwhile, the director-general of the WHO, Tedros Adhanom Ghebreyesus, warned this afternoon that the coronavirus outbreak is "accelerating, and we have clearly not reached the peak of the pandemic."
At a briefing, he said: "More than six months in, the case for national unity and global solidarity is undeniable," he said at a WHO briefing Tuesday. "We cannot afford any divisions."
For those wishing the US to stay in the WHO, the next thing to watch will be the presidential election in November, bearing this in mind:
"The United States' notice of withdrawal, effective July 6, 2021, has been submitted to the UN Secretary-General, who is the depository for the WHO," a senior administration official told the New York Times.
By law the United States must give the organization a year's notice if it intends to withdraw, and meet all the current financial obligations in the current year – although the US has been holding back funding from the WHO under the Trump administration.
Joe Biden hasn't commented on the WHO news yet but it would be staggering if he didn't immediately tear up all the decisions by Trump to vacate the US's role in and funding for the WHO, if he wins in November. If that happens, plenty of time to reverse all this after his inauguration in January, 2021.