Away from today's protests, Victoria Bekiempis has news of the fight against Covid-19 as deaths from the virus approach 400,000 in the US:
Joe Biden's promise to carry out 100m coronavirus vaccinations in his first 100 days in power is "absolutely a doable thing", Dr Anthony Fauci said on Sunday.
The president-elect has announced ambitious initiatives to combat Covid-19 and its economic toll, seeking to overcome the struggles and failures of the Trump administration, which has presided over a slow start to the biggest vaccination drive in US history.
The challenge is steep: Ron Klain, the incoming White House chief of staff, told CNN on Sunday, Biden's team projected another 100,000 deaths from Covid-19 in the first five weeks of the administration.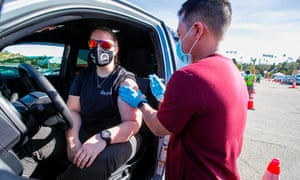 According to Johns Hopkins University, by Sunday morning 23,760,523 cases and 395,855 deaths had been recorded in the US.
"It's going to take a while to turn this around," Klain said.
Fauci, the top US infectious disease doctor, told NBC's Meet the Press: "I can tell you one thing that's clear is that the issue of getting 100m [vaccination] doses in the first 100 days, is absolutely a doable thing. What the president-elect is going to do is where we need be, to invoke the [Defense Production Act] to get the kinds of things they need, whatever they may be, be they tests, be they vaccines or what have you.
"In other words, to just not be hesitant to use whatever mechanisms we can to get everything on track and on the flow that we predict. But the feasibility of his goal is absolutely clear, there's no doubt about it. That can be done."
You can read the full story below: