Democratic presidential candidate Joe Biden continues on his reinvigorated march to the nomination while attempting to show enduring rival Bernie Sanders why he has the experience to be a better occupant of the White House than either the left-winger or Donald Trump – especially at this time.
Biden put out a video message on Twitter a few hours ago addressing how he would implement a disaster relief package similar to the $2.2tn unprecedented beast passed by the Senate last night.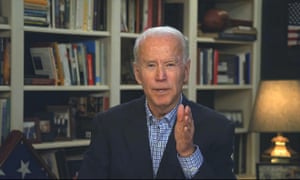 Biden notes the historic passage of the bill last night (the House expects to vote on it tomorrow, with bipartisan support, before sending it to Trump to sign), adding: "The key will be its execution, if I was president here's how I would do it…"
He goes on to note that he would use all his authority "to turn the tide on the epidemic." That seems very obviously what any leader would want to do but then, without naming Trump, he says he takes issue with the idea that you have to choose between the public health and re-opening the economy – a theme the president very controversially began airing on Monday and has continued all week.
Biden said that was a false choice and there needed to be a careful plan to reopen the economy but doing so too soon or without following health experts' advice would be "catastrophic" and could lead to a surge in new, deadly cases of the coronavirus.
He notes, in a clear shot across Sanders's bows: "I led the implementation of the recovery act in the last crisis," He was Barack Obama's vice president as the administration tackled the financial crisis immediately upon taking power in 2009.
He urged, in summary, the prioritizing of workers (not CEOs' bulging pay packets or shareholder dividends), small business loans, allowances to ease student loans, increased social security payments and funds for everyone struggling financially.
Biden finished with: "Congress is doing its job, the president has to do his now, it's all about implementation, priorities, detail and accountability," he said – surely a jab at Trump's noting at the briefing in the White House rose garden earlier this month that he takes "absolutely no responsibility" for failures in tackling the coronavirus crisis.