Unlike many European countries, Sweden has kept its primary schools open as well as bars and restaurants, while urging people to respect social distancing and hygiene recommendations.
Sweden kept its primary schools, bars and restaurants open – unlike many of its European neighbours – but it did ban visits to care homes on March 31.
Sweden's Nordic neighbours also introduced bans around the same time, but have recorded far fewer care home deaths.
But unlike in those countries, Swedish nursing homes are often large complexes with hundreds of residents.
They are only available to those in very poor health and unable to care for themselves, and residents are, therefore "a very vulnerable group", according to Henrik Lysell of the Board of Health and Welfare.
Bjorn Branngard told AFP the personnel at his mother's home did not have proper protective gear.
"There was no protection. The personnel were going between different sections and spreading the virus."
In greater Stockholm, the epicentre of Sweden's virus spread, 55 percent of nursing homes have so far confirmed COVID-19 cases, according to Region Stockholm health authorities.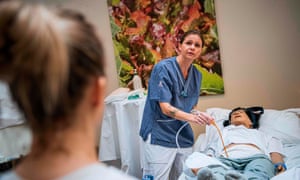 Kommunal, Sweden's largest union for municipal employees which includes many care workers, has meanwhile blamed precarious working conditions for the unfolding tragedy.
It said that in March, 40 percent of staff at Stockholm nursing homes were unskilled workers employed on short-term contracts, with hourly wages and no job security, while 23 percent were temps.
In other words: people who often can't afford not to go to work even if they're sick.
"There are a lot of different people who work at several nursing homes, and that also leads to a greater spread," the head of Kommunal's nursing home division, Ulf Bjerregaard, said.
Abdullah, a pseudonym for a 21-year-old refugee who didn't want to disclose his real name, has worked as an assistant in a care home outside Stockholm for two years.
He told AFP about a resident treated in hospital for a broken leg.
"She tested negative for the virus when she was with us. When she returned from the hospital three days later, she was positive," he said.
"We had protective aprons but no masks when we were working with her," he said, adding that he has since refused to go to work.