Citizens in Germany and France don't know how much more likely people of colour are to be stopped and searched by police, to be discriminated against in the workplace and the housing market, or to die of coronavirus.
The two biggest economies in the European Union do not, for historical reasons, collect any demographic data on ethnicity that would highlight such problems.
However, in the wake of an international debate about systemic racial discrimination triggered by the killing of George Floyd in the US, academics, activists and politicians say a rethink is needed for the countries to tackle their own injustices.
In France, Sibeth Ndiaye, a government spokeswoman, has ruffled feathers by suggesting that including racial data in the national database could allow policymakers to "measure and look at reality as it is", while in Germany a new independent census initiative is being launched at the end of the month to document the realities of life for people from black and minority ethnic backgrounds.
Unlike in the UK, where census forms allow participants to identify themselves as "White, Mixed/Multiple ethnic groups, Asian/Asian British, Black/African /Caribbean/Black British, Other ethnic group", statistical surveys in Germany only offer the category "person with a migrant background" – a fudge partly borne in 2015 out of German sensitivity around racial classification and the word Rasse, which in German also refers to the breed of animals.
"Unlike in English, where 'race' is now increasingly used to refer to a social construct, the German word Rasse still denotes biological essence," said Daniel Gyamerah, the chair of Each One Teach One, a Berlin-based community empowerment project.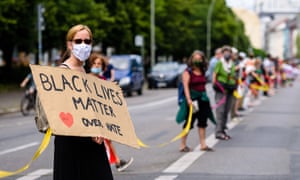 Last Sunday, about 8,000 people formed a socially distanced human chain in Berlin to protest against racism and social injustice, but with a lack of statistics about the experience of people of colour in Germany, much of the debate around institutional racism has remained vague.
"When it comes to statistics shedding light on racism, Germany is stuck in the stone ages," said Gyamerah. "We simply don't have the data. And that makes it easy for those here who argue that institutional racism is a problem unique to the US or the UK."