Tensions are rising between Florida's Republican governor Ron DeSantis, a keen Donald Trump ally, and elections supervisors, two days before early in-person voting begins in the crucial swing state.
Brad McVay, general counsel for Florida's department of state, emailed supervisors of elections in all 67 counties this week informing them of a requirement that all ballot drop-off boxes must be attended at all times by elections staff or an armed guard, according to the South Florida Sun-Sentinel.
While burdensome, McVay says the in-person measures are necessary to ensure the drop boxes are protected "from those who intend to do harm to the boxes (or the contents within them)."
He warns: "A person onsite can prevent foreign substances or small incendiary devices (like firecrackers) from being thrown into the drop box; video monitoring cannot do the same."
But the supervisors' representative body, the Florida Supervisors of Elections association, has effectively told them to ignore the directive, advising that no state law, statute or regulation compels them to comply.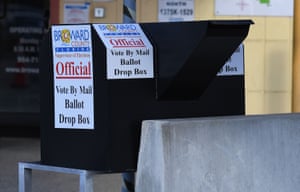 "Drop boxes that are at the main office, a branch office or early voting site are required to be secure, but I don't see that there is any staffing requirement or hours of operation related to those drop boxes [in state law]" the association's general counsel Ron Labasky wrote in his own memo.
"There is no definition of secure, so in my view that is within the discretion of the supervisor."
In South Florida's three most populous counties, the Sun-Sentinel reports, Palm Beach has four drop boxes that are monitored by 24-hour video surveillance, Broward County has two, and Miami-Dade has only daytime drop off facilities at 33 early-voting locations that will be guarded from Monday.
Florida is notorious for post-election finger pointing and lawsuits, and this latest wrangle sets the stage for another contentious and controversial voting season.
Already this year, DeSantis and the Republicans in control of the state legislature have successfully nullified a voter-approved ballot initiative from 2018 that would have restored voting rights to hundreds of thousands of disenfranchised former felons.
Almost 2.5m mail-in votes, a record for this stage of an election cycle, have already been submitted in Florida, with Democrats holding a sizable advantage. Trump needs Republican voters to turn out in person in massive numbers to capture the state and its 29 electoral college votes, which most analysts say the president must win to secure a second term.